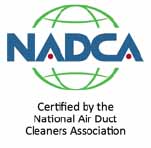 May it be for commercial or residential duct cleaning needs, it would really best if we consider only the services rendered by a NADCA certified duct cleaning company. NADCA stands for National Air Duct Cleaners Association. It is a non-profit group, founded in 1989 and based in Washington, DC. This trade association is composed of businesses which are engaged in the cleaning, maintenance and restoration of HVAC systems and related systems. NADCA aims to promote only a highly acceptable cleaning method, supports high standards, and protects consumers.
For more than 20 years, NADCA has provided the consumers a better way to end up with highly qualified air duct cleaning certified companies. Duct cleaning companies certified by NADCA work in accordance with Assessment, Cleaning, and Restoration (ACR) Standards. This provides the technicians a comprehensive guide on the proper and safe technical works. NADCA certified companies agree on using source removal method for effective removal of the indoor contaminants. They as well possess general liability insurance and ensure the staffs are highly knowledgeable, adding up to a higher sense of security.
NADCA duct cleaning certified vent cleaner companies must have at least one service technician which has NADCA Air System Cleaning Specialist certification to verify the particular employees' understanding and skill on the related work. Also, being a NADCA certified air duct cleaning company does not stop by acquiring the certification. One must continue receiving education through attending seminars and other means of information given out by the association. Members must be continually informed to keep up with whatever things that need to improve for the good of the industry.
When looking for a cleaning company we must consider hiring NADCA certified duct cleaners or NADCA certified air duct cleaner because in that way, we can be pretty assured that we can get hold of a high quality service. HVAC cleaning and maintenance of the system is somehow a critical job and can greatly affect the condition of the occupants hence all the works in lieu with it must be carried out properly. That is also one way to protect the system from experiencing damages and lengthen its service life. With this, we should decide not on settling less than we deserve and on what does not keep us fully at peace with duct cleaning concerns. Go only for a NADCA certified duct cleaning company and book your NADCA certified duct cleaning today.